Shel-Haven Canoe ~ Kayak ~ Tube Tracker Rental
on the Manistee River in Grayling, MI
CLOSED FOR THE SEASON!
Thank you for your patronage!
All Trips Depart From Longs Canoe Rental and End at Shel-Haven Canoe Rental
Both landings are private property.  Only Shel-Haven Rental Equipment Allowed.  We are not able to accommodate any private equipment. ~ Thank You!
For Quicker Departure Arrive Before 11:00 AM *   We are very busy from  11-2  Expect Delayed Departure if you arrive after 11:00 AM.
*Shuttle runs daily from 9:00 AM – 4:00 PM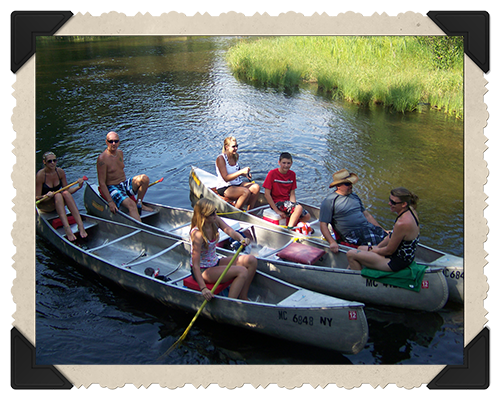 Enjoy our Classic 17 Foot Aluminium Canoes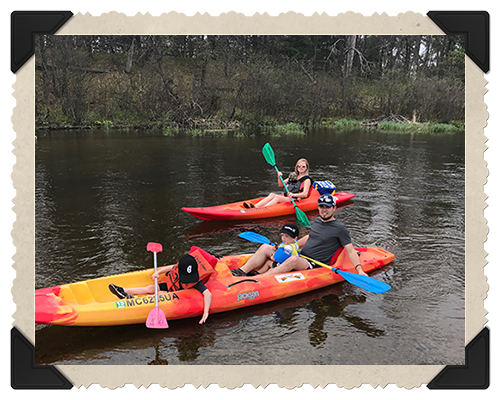 Nice New Jackson Kayaks. Single or Double Kayaks available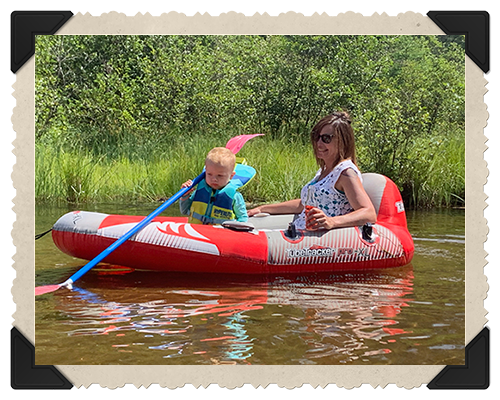 These tube trackers are super stable, super comfortable, and can't tip over. A great choice for any age and any size!
About the Mighty Manistee River
This spring-fed river is refreshing and crystal clear all year round.  The bottom of the river is mostly sandy and inviting.  It flows just like a lazy river at a water park, with a clear wide path, making it easy for you to float and relax.   The river averages 2 to 4 feet deep-you can practically walk the whole thing.  The moderate current and stable flow make this river a favorite for families, youth groups, scout groups, and anyone who loves nature and beauty.  Much of Michigan's native wildlife can be spotted along the banks of the Manistee, including Black Bears, White Tail Deer, and Bald Eagles.
FAQ
Q:     What time do I need to arrive?
A:      There are no set departure times.  Your reservation holds your equipment until you arrive.  You are welcome to arrive anytime before 4 PM.
*Shuttle stops running at 4:00 PM​*   Please Note: We get quite busy starting at 11:00 AM, If you would like to avoid the rush please arrive before 11:00 AM.  Whenever you arrive please sign in at our front desk and then our shuttle will run you upriver.  Then you can relax and take all the time you need floating back to Shel-Haven Canoe Livery, it does not matter what time you end your trip, as your car will be here waiting for you at the end.
Q:    Can I bring drinks on the river?
A:     Yes!  We want you to be comfortable and have a good time.  All we ask is no glass please and be respectful of how much you consume.
Q:     Is this river good for kids or those with no experience/is there an age limit?
A:     The Manistee river is great for all-from beginners to experienced. The current is very calm so therefore it's a great place to learn.  There is no age limit, whatever the Parent/guardian is comfortable with we can accommodate.
Q:      Do we need reservations?
A:     We always recommend reservations to be sure you have the equipment you need.
Q:     Do you allow pets?
A:     Yes, pets are welcome.  They can ride in the van with you to the landing and enjoy the beautiful river right along with you.
Q:     Do you allow/transport private equipment?
A:     We do not allow or transport any private equipment.  All of our landings are privately owned and are only available for use with our rentals.  By renting our equipment, we can keep your entire group together and take care of all your transportation and equipment needs.   (There is no public landing available near our drop-off point)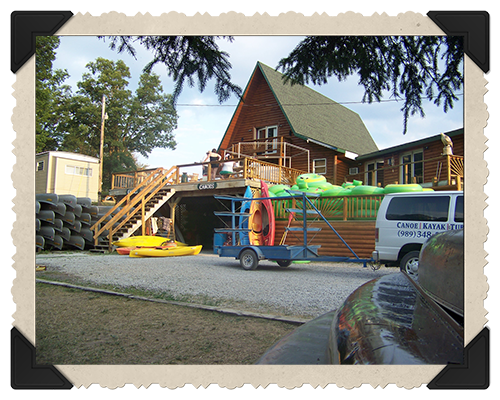 We drive you up the river and you canoe back down river ending at our canoe livery, where your car is waiting for you.
ATTENTION:
PLEASE NOTE OUR NEW POLICY
ONLY SHEL-HAVEN RENTAL EQUIPMENT IS ALLOWED!
NO PRIVATE EQUIPMENT IS ALLOWED AT SHEL-HAVEN CANOE RENTAL OR AT LONGS CANOE RENTAL!
If you have your own equipment these can be launched or retrieved at designated state landings only.  We are no longer able to accommodate any private equipment or parking of private vehicles.