About Shel-Haven
 Friendly and courteous service is our specialty.
Shel-Haven Canoe Livery was built in 1964 and has been owned by the Tompkin's family for 28 years. Friendly and courteous service is our specialty.  Shel-Haven offers clean, indoor bathrooms located in our beautiful building.  Last-minute items and souvenirs are available in our uniquely-decorated store. Our showroom has a wonderful display of mounted animals from a baby goose to a large mountain lion and includes full-sized deer, coyotes, otter, bobcat, turkey, and mink.  The kids love it – actually everyone does.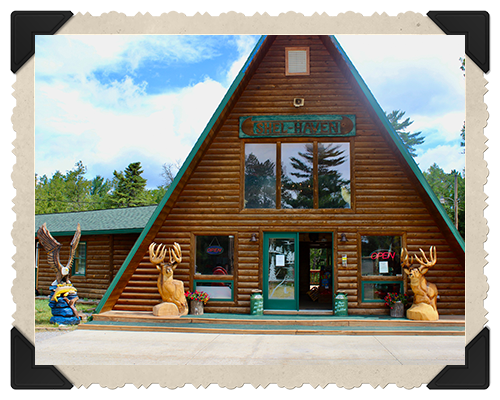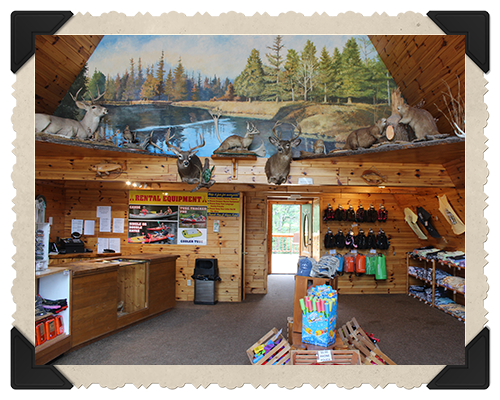 Looking for a good time with family and friends, or just a peaceful getaway alone on the mighty Manistee? Well, here at Shel-Haven we offer the perfect variety of trips to accommodate your needs.  We pride ourselves on our customer satisfaction and are willing to do whatever it takes to make sure your experience through us is unforgettable.
We offer a 2 hour trip or a 4 hour trip. For each of these expeditions, you will park at Shel- Haven and we will load you up in one of our vans and drive you up the river to your desired destination. From there you will float back down river to your car. So its ok, enjoy yourself and relax on the river and take as long as you would like to, because we don't charge extra if you decided to stop at one of the many sandy swimming holes with the kids to cool off, or if you pull off to the side to have a picnic with the family, or you could even be one of the groups who gets distracted in an epic water fight and lose track of time.  Your car will be waiting, and so will we, have fun.